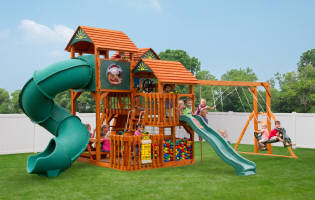 Customizing available for all Playsets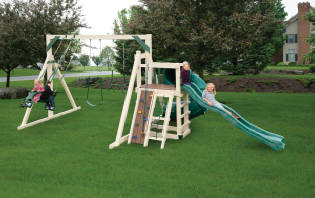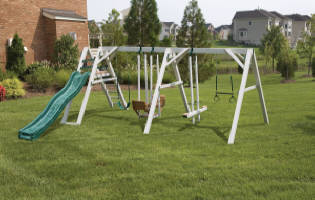 Our playsets are made by some of the finist Amish craftsmen in the country, our playsets will provide long hours of fun for your children and grandchildren.
We make sure our sets are safe. Built to support adult weight, the deck surfaces can bear up to 250 pounds and most rides up to 200 pounds (except plastic gliders). So parents, go ahead and play along with your kids!

Playsets are unmatched for aiding in children's physical, mental, social and emotional development. Exercising in fresh air dtimulates muscle growth, increase coordination, and develops the mind. So, don't settle for lesser quality swingsets. Reading, Allentown, PA area families, visit Eastern Building Products of Fleetwood, PA for durable, sustainable fun!
Customizing available for all Playsets
When it comes to swingsets, Reading, PA families hope to enjoy them for years to come! Our swingsets are warrabted that workmanship of your swingset will be without fault for up to 2 years. We extend a limited lifetime warranty on all pressure treated lumber against decay and insect damage. All PVC plastic lumber is backed by our 20 year warranty against fading & discoloration. In addition all canopies, sliding boards, metal components, swings and accessories are warranted for 2 years from purchase.
Durable Swingsets in Reading, PA
Limited Lifetime & 2 Year Warranty


We Guarantee Our Buildings
Eastern Building Products 14588 Kutztown Rd
Fleetwood, PA 19522
610-683-6120